Preparing for Winter in the Fairy Garden
As the days grow shorter and the temperatures drop, those with miniature container gardens will start scaling back their plans for summer gardening and begin preparing the fairy garden plants for fall and winter. While a fairy garden may seem delicate, as it is can be full of sparkling fairy wings, graceful baskets, and gentle plants, a hardy miniature garden ensures that the hobby survives all year long.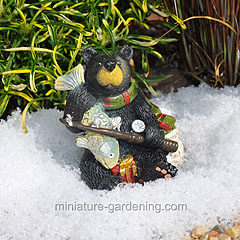 So, how do you ready your container garden for winter? You do not start in the middle of the snowy season. In fact, it is best if you begin preparing your winter container garden even before the plants have met the dirt. You can weatherize basket planters and metal containers with several coats of spray paint to prevent baskets from cracking in the cold and metal from rusting in the moist weather. Even clay pots can be protected by spraying with clay pot sealer. These simple precautions will give your winter plants a proper winter container garden home.
Next, you will want to secure all those miniature garden accessories that add personality between your winter plants and landscape materials. While most resin accessories are dependable and strong against moisture and cold temperatures, they could use a little help when it comes to guarding against the winter wind. You can utilize a fast-acting glue to attach fairies to accessories and teeny-tiny items like tree ornaments, teacups, and fairy dishes to furniture and winter plants.
If your miniature garden accessories do not have picks, simply use the same glue to affix golf tees or nails to the bottoms of your accessories. This will help anchor them into the soil. That way, you will not need to worry about watching your fairies or miniature garden accessories rolling away in the wind.
Winter is also a fun time to give your miniature garden a new theme. Wintertime calls for miniature accessories that remind you of the holidays, faux snow dusting the pathways, and twinkling lights strung across the fairy garden. Look for faux evergreen trees, fireplaces, sleighs, menorahs, and other miniature accessories that will give your fairy garden a taste of the festive winter season.
Once you have secured your miniature accessories and winter containers, it is time to think about the winter plants. A container that has been moved inside will need plenty of light and cool air. You do not want the plants to get too most either. Keep an eye on your winter plants that live indoors and water just before they go dry.
Winter miniature plants that are kept outdoors need to be rugged enough to survive the winter in your growing zone. Appropriate winter plants will differ depending on the region in which you live (and garden) but there are a few that are known to be suitable for outdoor container gardens during the colder months of the year.
Ajuga, Chocolate Chip, Bugleweed is an evergreen perennial that is also deer-resistant. In the summertime, bright flowers will spill over the edges of your containers. This winter plant looks smart twelve months out of the year. Euonymus fortunei, Kewensis is an evergreen groundcover you might know as "wintercreeper." Its name tells you that this is a good winter plant for your fairy garden and containers.
Another winter plant variety that usually fares well in the winter garden is the sedum. These perennial succulents feature bright colors, fleshy leaves, and plenty of beauty. They tend to be cold hardy, low, and spreading. Cape Blanco has silvery leaves and cheerful yellow flowers. Fuldaglut will sun you with its maroon leaves.
Once you have the appropriate containers, miniature accessories, and winter plants, you will be ready for winter in the miniature garden! With just a little time and creativity, you can create a winter fairy garden that is fit for the season.
Comments
{{ errors.first("comment") }}