Welcome to Winter Greenhouse!
Winter Greenhouse is a popular garden center and nursery located near Hayward in Northern Wisconsin. We offer a large variety of high quality plants, including hardy perennials, annuals and vegetables, ornamental trees, evergreens, fruit trees, small fruits, shrubs, vines, roses, herbs, water plants, exotics, wildflowers & ornamental grasses. (See this year's new plants.) Hanging baskets and planters of every description, size, and shape surround the facility.
Based on over 35 years of experience designing and growing the greenhouse display gardens, we also offer landscape design and installation services.
In addition to our retail plant offerings we sell a limited variety of smaller plants and garden items online. This list includes ground cover plants, smaller houseplants, succulents, plants for terrariums, quart sized shrubs and more.
Our mission is to bring an inspiring growing experience to all of our customers, while developing an increasingly natural and sustainable business that will serve future generations well.
Specials In-Store
Starting Saturday, August 6th
Featured Guide
Ground Cover Plants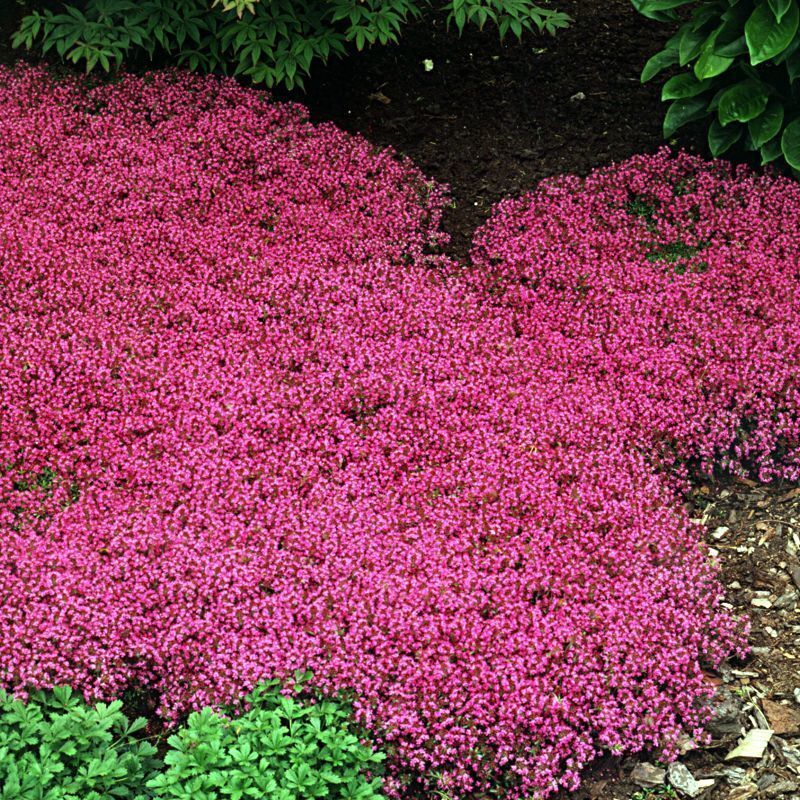 Choosing, Locating, Planting and Maintenance
The plant world is full of stand-out flowers, trees, shrubs, and other living things, from dignified palm trees to delicate roses, all keen for attention in the garden or yard. What about the often-overlooked, occasionally forgotten ground cover plants? Far from a throwaway, ground cover plants are some of the most useful, beautiful, and growable plants in nature. They can be used as borders and accents, helping to put the spotlight on paths and other garden features, or they can take center stage, covering an entire lawn, draping elegantly across a rock garden, or billowing out of a container, star of the garden show.
Customer Testimonials
"Your shop is an absolute delight!
I just wanted to tell you how very much I am in love with your shop! I love everything about it-your selection...your prices...even your descriptions are charming! I will be ordering several things from you soon!! Take care!"
Jamie Nichols
"Plants look great ! Packaging to protect plants was perfect. Thank you !!"
Bill Dandridge
"Thank you so much, I received the replacement and it was received in perfect condition. I thank you for your wonderful customer service and appreciate your taking the time to help diagnose my plants distress and then being willing to ship out a replacement. When I need additional plants, your business will be the first I come to based on my experience with customer service. While it wasn't your fault, you still went above and beyond what you had to. Thanks again it was very much appreciated!"
Nick Orton
"Just a note of thanks! I absolutely love my new plant baby and the packaging was simply amazing. I have been very dissapointed lately with online plant orders. Your packaging was perfect! Thank you!"
S Young
"AWESOME PACKAGING AWESOME PLANTS AWESOME INSTRUCTIONS WILL RIGHT 5 STAR REVIEW!!! TY TY TY"
Therese Garvin
"I received the 5 Alternanthera Saturday. They arrived in great shape and I am so pleased with the size and condition. You pack them perfectly and they were still very moist when I received them. I gave them another good water when they arrived and now they are looking perfect in their pots.
Thank you again for your wonderful service. It is greatly appreciated."
Donna Christian
"Couldn't find where to give a review. I work for USPS and I opened the rosemary plants on my lunch break. These plants we're superbly packed (I should know;) ), and bigger than I expected. They look and smell great, still a bit moist and showed up very fast! I will be buying from them again! Thank you thank you!"
Hannah
"Received my order in perfect condition. Thank you so much. This is the second time I have ordered from you and am quite pleased. You have a lovely site. Thank you so much Sheila for the great packing."
Angela Tomassi
"Several months ago I wrote and told you my Sempervivum had died and you graciously replaced it. I am here to tell you the replacement has been growing extremely well and is beautiful. It is almost double in size and has 5 babies! Thank you so much for your terrific customer service. I will be back in Spring for other succulents."
Louise Snyder
"Received my plant yesterday. Nicely packaged and shipped well. Such a beautiful plant, all the leaves were fully intact. Will order from you again in the future."
Linda
"Just wanted to say how happy I am with the latest order from you. Everything arrived quickly to Melbourne, Australia - packed beautifully and nothing damaged. The ladybug house is gorgeous and can't wait to start our Christmas garden with it. Thank you so much again .. I absolutely love purchasing from you, Warm regards"
Sophie Dalton
"I love shopping with miniature gardening. They ship superfast and it always arrives in top shape. Their customer service is next to none!"
Jill Bremer
" I just wanted to let you know I just received my plants! I'm sooo excited I literally dropped everything to open the box! They all made it beautifully and I can't thank you enough for packing them so carefully!! SERIOUSLY I CAN'T THANK YOU ENOUGH!!! You have gone above and beyond to get these to me quick, safe and happy...of course me being the happy one :) I truly appreciate everything you've done and you definitely will see me back again! Happy New Year and see you in 2019!"
Kendra Shaughnessy
"You guys did such an awesome job packing it, it arrived in great condition! I'll definitely be ordering more plants from you in the future."
Bloom and Glean
"The plants showed up right away. The packaging was excellent and the plants were in great condition. I am now enjoying them thoroughly and look forward to ordering more from you."
Robin
"Hello, this is the first time I have ever written to a mail order company but I have to tell you that you are amazing. I have never seen such healthy, lush beautiful plants.

They far exceeded my expectations. I have ordered plants through the mail many times, never have they come even close to matching the quality of yours. Thank you so much! I will definitely be ordering from you again!"
Tresha Ward
"I just received my replacement Baby Toes. They look wonderful. Thank you so much for your quick response. Great inventory and the best customer service! My future orders will be from your company. Thank you!

From a totally satisfied customer"
Joe Ackerman
"I have just received my orders from you, 2 Frizzle Sizzle plants. I wanted to comend you for the excellent and fabulous packaging you provided. I have ordered other plant material elsewhere, and have never gotten my plants in such superior condition. The plants seem as they are right off the shelf with no appearance of any stress or breakage. Thank you so very much."
Dyan K Petropolis
"Thank you so much for my last order. I was so impressed by the quality that I am back again, sending my husband to the poor house, so he says. My new hobby/obsession sure put's a big smile on my face and an even bigger smile in my heart, if you can understand that. And everyone benefits from that!"
Leslie Moreno
"This is by far the best live plant purchase experience I've had with an Amazon seller. Every plant I ordered is fourishing and healthy, the baby toes are even blooming! The Dyckia plant was larger than I expected and will go perfectly with my collection. Will definitely use these guys again."
Birna